Annual Statistics 2019: 77% Success Rate at Appeal
We have collated our statistics for the year of 2019. Below you can find a breakdown of all the areas we recorded.
We would like to thank our staff, volunteers and trustees for the incredible work they do, which has all lead to incredible results.
Appeal Success Rate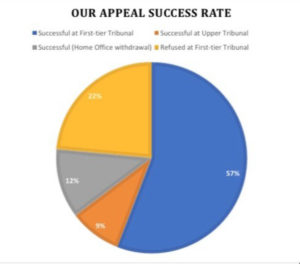 We are proud to report that we have continued our high success rate in asylum appeals. Following from our success rate of 70% for the period between 2014-2018, we have increased to a 77% success rate in 2019.
This is nearly double the national success rate (41% as per Refugee Council). We are incredibly proud of this achievement, and this is a testament to the high quality of work within the Asylum Justice team and all our support staff and volunteers. More so, however, we are thrilled to be able to offer such a service to the huge number of asylum seekers who are unable to obtain representation, due to their case being found to not merit additional legal aid by their lawyer.
Without Asylum Justice, tens of asylum seekers and other vulnerable migrants would be going to court without the aid of legal representation. Access to justice is paramount in any functioning legal system, and we are proud to offer it to many of the most vulnerable individuals in the United Kingdom.
This is even more important considering the level of coverage throughout Wales. The report, Droughts and Deserts: A report on the immigration legal aid market, by Dr Jo Wilding (image from the report pictured below), displays the lack of legal aid provision within Wales.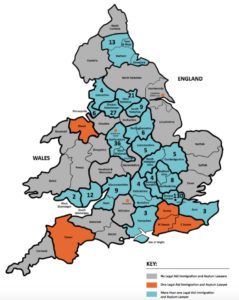 We are the only charity in Wales able to provide legal services at OISC Level 3, and the current state of coverage has caused vast legal aid and advice deserts. We believe that our services have recently become even more vital, due to the fact that in the past year three legally aided law firms closed in Cardiff. Furthermore, with our ability to hold a drop-in in Swansea, it has allowed us to open our services to those not only in Cardiff, Newport and other areas nearby, but also further West.
Settlement/Leave to Remain Success Rate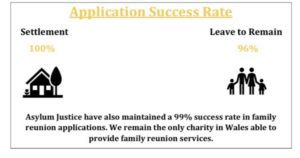 There will come a point where an asylum seeker or other migrant will be eligible for settled status. As per government statistics, there were 94,762 decisions on applications for settlement in the UK from non-EEA nationals in 2019, similar to the previous year. Of these, 91,307 (96%) resulted in a grant.
We are proud to have a 100% success rate in such applications. Settled status marks an important point in a migrant's life and for many it often signifies a new beginning.
There are also those who must at certain intervals in their leave, apply for a renewal. These individuals are disproportionately those with family in the United Kingdom This is an area not covered by legal aid and the application, alongside legal fees, can be substantial. Many of the families, often with young children, are left to do the complex application themselves. And if they are unable to afford the fees, they must complete a fee waiver application. Again, these are substantial barriers to these individuals who wish to only carry on their family life within the UK.
We have continued our dedication to providing family reunion services for recognised refugees in Wales. No longer covered by legal aid, we are the only charity in Wales able to provide such services. Refugee family members, often stranded in war zones or refugee camps, are only able to reunite via a formal family reunion application, an application that can often be very complex and outside of the capabilities of a recently recognised refugee. We were part of a team that put together a briefing note on this topic that can be found here.
Country of Origin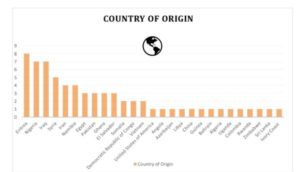 We represented individuals from an incredible 15% of the world's nations in 2019.
In contrast to the period between 2014-2018, what is striking is the sudden emergence of El Salvador as a nation that has started producing asylum seekers in the UK. Prior to 2019, we had not represented anyone from El Salvador. However, in the year of 2019, we represented three El Salvadorians at appeal. We also represented El Salvadorians, not recorded in our statistics, in applications for permission to appeal.
From our limited research, we have been unable to find any substantive research on the topic, however it has been noted in various media reports that those from El Salvador are endeavouring to reach Europe rather than try to reach the US.
Furthermore, the Electronic Immigration Network, a vital source for all immigration lawyers, did not have El Salvador on their list of countries until last year, where it was added due to the number of requests. Similarly, prior to February 2020, the UKVI guidance on countries for asylum purposes did not include El Salvador.
Countries such as Iraq, Eritrea, Sudan and Iran all remain high asylum seeker producing countries, as per the stats of Refugee Council, as well as our own.
Donate
Please donate to allow us to continue this vital work as the only charity in Wales able to do so.
---